In 2021 City Council celebrated the retirement of Lynda Roesch after 20 years of service as a Council Member.  The elections of 2021 also confirmed the reelection of Lee Ann Bissmeyer, Chris Dobrozsi, and Ron Messer while welcoming new Council Member Sasha Naiman.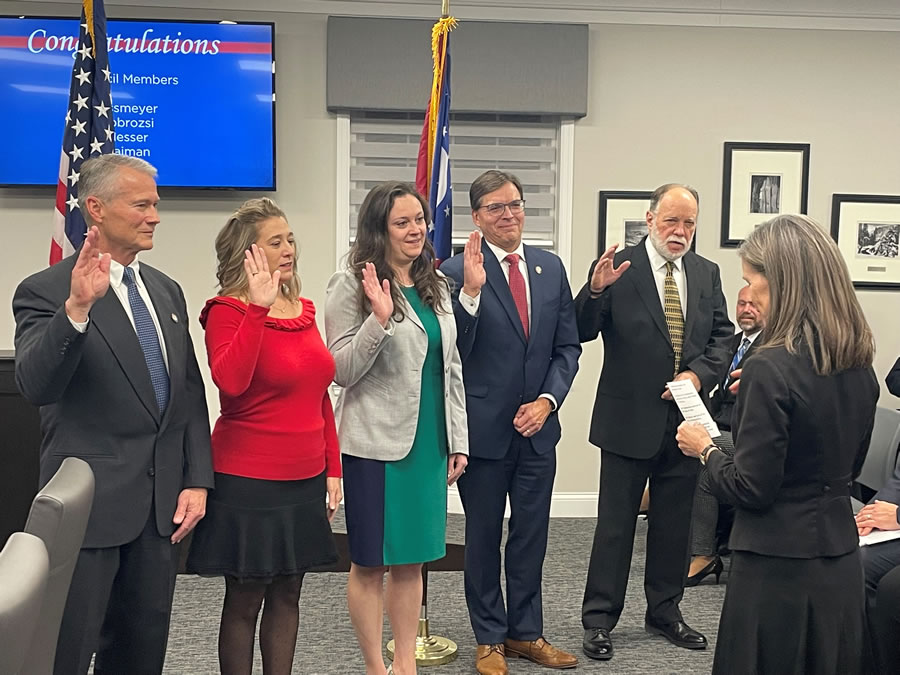 The City of Montgomery operates under a council-manager form of government with seven elected City Council members working with a city manager, clerk of council, and law director, all appointed by City Council.  All City Council members are elected at large by a popular vote of residents for staggered terms of four years.  Once seated, City Council members choose the Mayor who serves for a two-year term.
City Council is responsible for establishing policies and enacting legislation necessary for municipal operations.  By charter, the city manager serves as the City's chief executive, administrative, and law enforcement officer.
City Council operates with six standing committees:
Financial Planning
Government Affairs
Law and Safety
Parks and Recreation
Planning, Zoning, and Landmarks
Public Works
Several initiatives are undertaken each year to maintain communications between City Council and the boards, commissions, and civic organizations, including:
Annual updates to City Council on the previous year's activities and work of the respective board/commission.
Annual Board and Commission member orientation and training.
A Community Leadership Forum is held to allow volunteers, neighborhood association representatives, civic groups, local school officials, business leaders, elected officials, and City administration to discuss topics of interest.
As part of City Council's responsibilities for establishing policies and enacting legislation, it oversaw operations and administration of a budget of $41,456,387 and adopted 10 ordinances and 46 resolutions in 2021.
2021 Council Action
Ordinances
An Ordinance Appropriating $500,000 From The Vintage Club TIF Fund For Fiscal Year 2021 As Authorized By Amended Senate Bill #4 (Passed 5-   yes, 1-recusal, 1-vacancy)
An Ordinance Modifying Section 132.14, Noise, of The Montgomery Code of Ordinances (passed 7-yes, 0-nay)
An Ordinance Designating the Wooley-Hattersley Carriage House as A Montgomery Landmark (7-yea, 0-nay)
An Ordinance Authorizing the Law Director to Initiate Proceedings to Appropriate Property for The Purpose of a Road Improvement Project on Montgomery Road in The City of Montgomery, Hamilton County, Ohio (7-yea, 0-nay)
An Ordinance Providing for The Issuance of Not to Exceed $7,500,000 Of Notes by The City of Montgomery, Ohio, For the Purpose of Making Public Infrastructure Improvements Within the City (5-yea, 2-abstain)
An Ordinance Accepting Publicly Dedicated Easement Rights For Driveway Access Improvements from Various Property Owners on Montgomery Road and Declaring an Emergency (passed 6-yea, 1-abstain)
An Ordinance to Make Appropriations for Current Expenses and Other Expenditures of the City of Montgomery, State of Ohio During the Fiscal Year Ending December 31, 2022 (Passed 6-Yea , 1 -Abstain)
An Ordinance Approving A Planned Development Overlay For Property Owned By Twin Lakes Located On Montgomery Road At Schoolhouse Lane (Passed 6-Yea , 1 -Abstain)
An Ordinance Establishing The Diversity And Inclusion Commission (Passed 7-0)
An Ordinance To Amend Appropriations For Current Expenses And Other Expenditures Of The City Of Montgomery, State Of Ohio, During The Fiscal Year Ending December 31, 2021 (Passed 6-Yea , 1 -Abstain)
Resolutions
A Resolution Authorizing The City Manager To Contract With National Inspection Corporation For Professional Services To Serve As Building Official And To Provide Plan Review And Field Inspection Authority And Services For The City's Building Department For The Calendar Year 2021 (6-Yea, 1 Vacancy)
A Resolution Authorizing The City Manager To Enter Into  A Contract With CT Consultants, Inc. For Professional Services Related To General Engineering And Architectural Services For Calendar Year 2021 (6-Yea, 1 Vacancy)
A Resolution Authorizing The City Manager To Enter Into A Contract With Summit Fire Apparatus And Custom Fabricators For The Purchase Of A 2022 Spartan/Summit Metro Star Rescue Pumper Fire Truck (6-yea, 1 vacancy)
A Resolution Declaring the Necessity/Intent to Appropriate Interests in Land from Brandi Jo Kelly (Permanent Parcel Numbers 603-0009-0016, 603-0009-0017 And 603-0009-   0054 Consolidated) For the Purpose of The Montgomery Road Sidewalk and Road Improvement Project – Ham-US22-14.74 - In the City of Montgomery, Hamilton County, Ohio (7-yea, 0-nay)
A Resolution Accepting a Bid and Authorizing the City Manager to Enter into A Contract with J.K. Meurer Corporation for the 2021 Street Resurfacing Program (7-yea, 0-nay)
A Resolution Authorizing the City Manager to Contract with Management Partners Inc. for professional services related to the 2022-2027 City Strategic Plan (7-yea, 0-nay)
A Resolution authorizing the City Manager to enter into Agreements with the State of Ohio, Department of Natural Resources, to fund Public Park Facilities within the  Montgomery Quarter District (6-yea, 1-abstain)
A Resolution Authorizing an Updated Amendment to Development/Service Agreement with Montgomery Gateway Partners, LLC (7-yea, 0-nay)
A Resolution Authorizing The City Manager To Enter Into A Contract With Jake Sweeney Chrysler Jeep Dodge Ram For The Purchase Of Three (3) 2021 Dodge Charger Sedans (7-yea, 0-nay)
A Resolution Authorizing An Amendment To The Cooperative Agreement Between The City Of Montgomery, Ohio, The Port Of Greater Cincinnati Development Authority, The Montgomery Community Improvement Corporation, And Gateway Partners Montgomery, LLC (5-yea, 1-abstain, 1-absent)
A Resolution Establishing Compensation for The City Manager (7-yea, 0-nay)
A Resolution Recognizing the Month of May 2021 as National Historic Preservation Month in The City of Montgomery (7-yea, 0-nay)
A Resolution Authorizing The Administration To Apply For And Administer Funding From The American Rescue Plan Act of 2021 (7-yea, 0-nay)
A Resolution Authorizing The City Manager To Contract With Frost Brown Todd, LLC To Provide Special Counsel Services (6-yea, 1-Absent)
A Resolution authorizing the City Manager to enter into contract with Strawser Construction, Inc. to complete the City of Montgomery 2021 Crack Seal Program through the Ohio Department of Transportation (ODOT) Cooperative Purchasing Program (6-yea, 1-Absent)
A Resolution Authorizing The City Manager To Enter Into A Contract With Physio Control-Stryker Medical For The Purchase Of Three LIFEPAK 15 Cardiac Monitor/Defibrillators (6-yea, 1-Absent)
A Resolution Rescinding Resolution 12, 2020 Declaring a State of Emergency In The City Of Montgomery Due To The Covid-19 Outbreak (6-yea, 1-Absent)
A Resolution Adopting a Tax Budget for 2022 (passed 7-0)
A Resolution Authorizing Internet Auction of Surplus Personal Property Through Govdeals.com (passed 7-0)
A Resolution Designating Records Managers And Training Designees For Public Officials In The City Of Montgomery (passed 7-0)
A Resolution Formally Adopting And Reaffirming Internal Control Policies Concerning The Local Law Enforcement   Trust Fund And The Federal Law Enforcement Trust Fund (passed 7-0)
A Resolution Amending Resolution No. 26, 2019 Authorizing The City Manager To Enter Into A Contract With Dental Care Plus, Inc. To Provide Dental Insurance Coverage For Full-Time Employees (passed 7-0)
A Resolution Authorizing an Assessment for The Removal of Dead Trees (passed 7-0)
A Resolution Amending And Extending Resolution Nos. 4, 2020 and 32, 2020 Authorizing Expenditures For Design and Engineering Services To Complete The Development of The Montgomery Quarter Project (passed 6-yea, 1-abstain)
A Resolution Accepting A Bid And Authorizing The City Manager To Enter Into A Contract With Prus Construction Company For The Montgomery Road Access Consolidation Project (passed 6-yea, 1-abstain)
A Resolution Authorizing The City Manager To Enter Into A Contract With Compass Minerals America Inc. For The Purchase Of De-Icing Rock Salt For The 2021-2022 Season (passed 7-0)
A Resolution Authorizing the City Manager to Accept the OneOhio Opioid Settlement and enter into the Participation Agreement with Opioid Distributors AmerisourceBergen, McKesson and Cardinal Health (passed 7-0)
A Resolution Amending Resolution No. 27, 2020 Establishing Contributions to Health Care Benefits (passed 7-0)
A Resolution Establishing City Contributions To Employee Health Savings Accounts And Health Reimbursement Accounts (passed 7-0)
A Resolution Accepting a Bid and Authorizing The City Manager To Enter Into A Contract With J.K. Meurer Corporation for the Safety Center and Public Works Parking Lots Project (passed 7-0)
A Resolution to Adopt the Recommendation of the Montgomery Tax Incentive Review Council with Respect to The Compliance of All Tax Increment Financing Districts Within the City of Montgomery (passed 7-0)
A Resolution Accepting the Amounts and Rates as Determined by The Budget Commission and Authorizing the Necessary Tax Levies and Certifying Them to The County Auditor (Passed 7-0)
A Resolution Authorizing A Debt Collection Agreement With The Ohio Attorney General (Passed 7-0)
A Resolution Authorizing An Intergovernmental Agreement Between The City And The Hamilton County Transportation Improvement District (Passed 6-yea, 1-abstain)
A Resolution Delegating Authority To Make Declarations Of Official Intent And Allocations With Respect To Reimbursements Of Temporary Advances During Fiscal Years 2021 And 2022 Made For Capital Improvements To Be Made From Subsequent Borrowings For The Montgomery Quarter Redevelopment Project (Formerly Known As The Gateway Redevelopment Project) (Passed 5-yea, 2-abstain)
A Resolution Authorizing The City Manager To Enter Into A Labor Agreement With The Montgomery Firefighters IAFF Local 4391 For Wages And Benefits From April 1, 2021 Through March 31, 2024 (Passed 7-0)
A Resolution Adopting A Five-Year Capital Improvement Program For The City Of Montgomery (Passed 6-Yea , 1 -Abstain)
A Resolution Adopting A Five-Year Strategic Plan For The City Of Montgomery (Passed 6-Yea , 1 -Abstain)
A Resolution Declaring A Moratorium On The Collection Of Building And Zoning Permit Fees For Solar Installations (Passed 7-0)
A Resolution Authorizing The City Manager To Enter Into A Contract With Humana Health Plan Of Ohio, Inc. To Provide Medical Insurance And Dental Insurance For Full-Time Employees (Passed 7-0)
A Resolution Establishing City Contributions For Healthcare Benefits     (Passed 7-0)
A Resolution Designating A Portion Of The Montgomery Road Corridor As A Community Entertainment District (Passed 6-Yea , 1 -Abstain)
A Resolution Amending Resolution No. 9, 2020 And Resolution No. 39, 2020 To Approve A Modification To The Construction Agreement With Brandicorp, LLC For The Montgomery Quarter Project Improvements (Passed 6-Yea, 1 -Abstain)
A Resolution Authorizing The City Manager To Accept The Opioid Settlement And Enter Into The Participation Agreement With Opioid Manufacturers Johnson & Johnson, Janssen Pharmaceuticals, Inc., Ortho-McNeil-Janssen Pharmaceuticals, Inc. and Janssen Pharmaceutica, Inc (Passed 7-0)
A Resolution Authorizing An Amendment To The Current Contract With Donnellon, Donnellon & Miller For Legal Services To The City Of Montgomery (Passed 7-0)
A Resolution Amending and Correcting Resolution No. 42, 2021 (Passed 7-0)