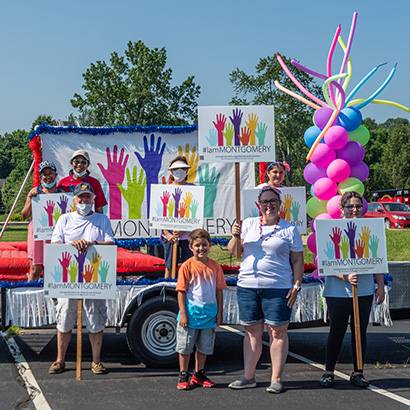 The City of Montgomery Diversity and Inclusion Committee was recently honored on July 29 with the Local Government Innovation Award during the 2020 Alliance for Innovation Transforming Local Government Conference. The committee was recognized for its efforts to bring awareness of diversity and inclusion to the Montgomery community.
City Manager Brian Riblet, Matthew Vanderhorst, community and information services director, and Umama Alam, a Montgomery resident and member of the Diversity and Inclusion Committee presented a case study about the Montgomery Diversity and Inclusion Committee during the virtual conference. They shared the success and challenges of the committee with the attendees representing local government from across the county.
The Montgomery Diversity and Inclusion Committee was formed in January 2018. The committee is comprised of residents representing various faiths, nationalities, age groups, and life experiences.
Historically, residents have gotten along well. In recent years and mirroring the national trend, the population of Montgomery has begun to shift. This demographic shift has been a welcomed development. Montgomery's civic leaders have embraced this shift as a good thing, having witnessed how the addition of diverse residents has enriched and vitalized the community.
Wherever they reside, cultural diversity and social change can be uncomfortable for some. Cultural diversity may be uncomfortable for those who are unacquainted with persons who are different from them. Cultural diversity and social change may also be difficult for those whose social experiences have been narrow, insular, or simply lacking in opportunity. Persons in this situation can be less inclined to be welcoming, less accepting, and on occasion, even "un-neighborly." It is well established that the most effective responses to intergroup suspicions and prejudices are cultural education, intercultural contact, and the creation of a climate of tolerance and respect as the community's civic norm.
Learn more about the Montgomery Diversity and Inclusion Committee by visiting montgomeryohio.org/diversity-and-inclusion/.