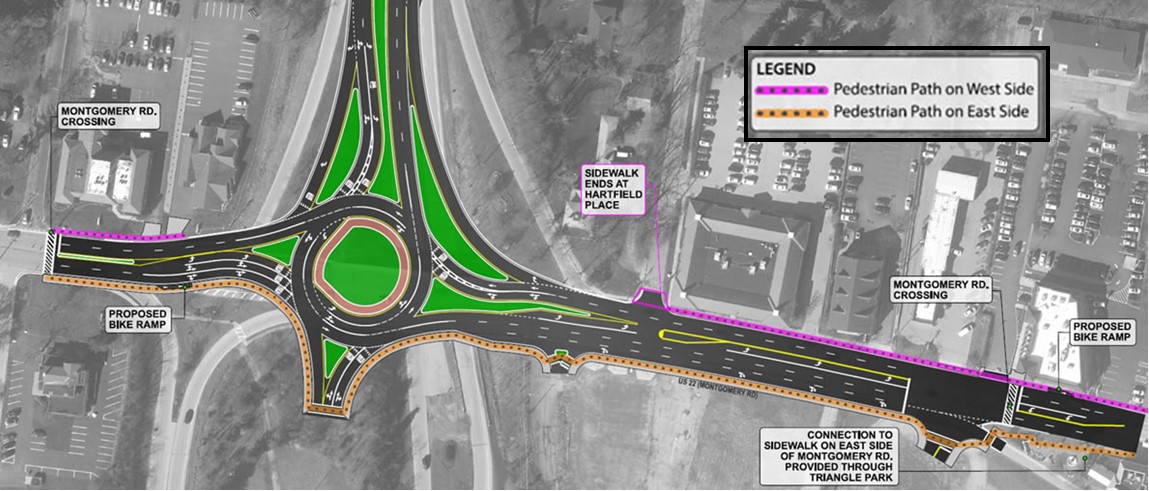 While much of the focus is on the rules of the road for driving in the new roundabout at Montgomery Road and Ronald Reagan Cross County Highway, there are a few things pedestrians should know once the project is complete.
Pedestrians will be able to walk north and south along Montgomery Road on the east side of the roundabout. There will not be a sidewalk through the roundabout area on the west side of Montgomery Road.  If you are beginning your walk from the west side of Montgomery Road, you will need to proceed either north or south to the closest traffic signal and cross Montgomery Road to the east side at the signalized intersection.  On the north side, this will be at the new traffic signal being installed at the Montgomery Road/Main Street "split", and on the south side, this would be at the traffic signal at Kennedy Lane.  There will only be one crosswalk adjacent to the roundabout, which will be located across the east leg of the roundabout intersection which is the future road into the Montgomery Quarter development.
Roundabout construction is expected to be completed next month.