What goes in my Recycle cart?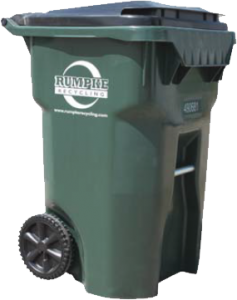 Keep in mind that single stream sorting technology allows each household to mix all of the recyclables in the Recycle cart. There is no need to separate items. Please place all items into the container loose and not in plastic trash bags.
If you do not have a recycling toter or need additional toters, please call Rumpke at 1-800-828-8171.
Acceptable Items for Recycling
While the full list of acceptable materials may vary slightly in some locations, residents can typically recycle the following:
Glass Bottles & Jars (all colors)
Metal Cans: Aluminum cans, steel cans, and lids, empty aerosol cans with the lids and tips removed
Plastic Bottles (empty, crush, and reattach lid): Bottles and jugs that have a small mouth and wider base, such as milk jugs, soda bottles, laundry detergent bottles, water bottles, shampoo bottles, and contact solution bottles
Plastic Tubs: Containers for butter, sour cream, cottage cheese, yogurt, Jell-O and fruit slices would fall into the tub category. Lids should be reattached prior to recycling
Paper: Newspaper, magazines, cardboard, mixed office paper and envelopes, paperboard (cereal boxes), 12-pack containers, pizza boxes free of food debris and grease, telephone books and catalogs
Cartons: Food and beverage cartons such as milk, juice, broth/soup, wine, broth and other cartons. (No Egg cartons)
Paper beverage cups from fast-food restaurants, plastic souvenir cups, and Ball brand aluminum cups.  *See disposal instructions below:
*Plastic lids should be reattached to plastic cups for recycling. Plastic lids from paper cups should be removed and discarded. Straws and                             stoppers are not accepted. Colored Solo brand cups are not accepted. These cups are made from polystyrene. K-cups are not accepted.
Do you ever wonder what happens to your recyclables once they leave the curb? Check out these Rumpke - Recycling Videos.
Recycling Tips
Mix all items together – no separation required
Empty all bottles, jugs and cans
No need to remove labels
For plastic bottles, empty and reattach lids
For cartons, remove plastic caps and straws
NEVER place medical sharps or needles in the recycling
DON'T use plastic bags
NOT for Recycling
No plastic bags, cassette tapes, bed sheets, hangers, metal chains, garden hoses, batteries, needles, syringes, electronics, polystyrene foam, buckets, car parts, food, yard waste, light bulbs, drinking glasses, ceramics, pots, pans, and scrap metal.
Monthly Recycling Collection
The monthly Saturday Recycling occurs on the third Saturday of each month from 10:00 a.m. to 1:00 p.m. at the Public Works building at 7315 Cornell Road.  This collection effort is now accepting more than just corrugated cardboard. The Environmental Commission will also accept:
Discarded sunglasses
Prescription Eyeglasses
Plant pots
Amber plastic prescription bottles (Bottles must be empty with personal data removed or blacked out with a marker)
Ferrous Metals (metal with iron or steel in it)
Where to Recycle Odd Items
Items such as  polystyrene, aluminum foil, pie pans, takeout food trays, and plastic bags cups currently cannot be recycled in curbside recycling programs. While some materials are not acceptable through the curbside program, there are other recycling outlets available. Many of these items can still be recycled at a variety of outlets.
Plastic bags can be recycled at area stores such as Kroger, Meijer, Lowe's, Wal-Mart, or other locations
Bubble Wrap, Packing Peanuts, Packing paper can be recycled at the UPS Store, 9891 Montgomery Road
Natural Corks can be recycled at Whole Food stores at displays in their entrances
Styrofoam can be recycled at Eco Energy Development 123 E. Main Street, Mason
Various items, including electronics can be taken to Cincinnati Recycling and Reuse Hub (Note: there is a fee for certain electronics)
Latex Paint, eyeglasses and pill bottles can be taken to Matthew 25 Ministries in Blue Ash
Call the Hamilton County Recycling Hotline at 513-946-7766 for a complete list.
Large Item Recycling
Items that are still usable can often be dropped off at a charity or picked up by other organizations. These items will usually be donated to somebody in need or sold at a thrift store. However, what do you do with a large item that you no longer want but it is not easily transported or is not wanted by Goodwill or other organizations? Some examples: Ovens, refrigerators, sinks, couches, swing sets, sand boxes, gas grills, yard furniture, TV antennae, firewood, televisions, bicycles, sports equipment, landscape timbers, extra bricks, lumber, roof shingles, old doors, usable paint, etc.
There is a local organized internet posting and email system just for this purpose. At www.freecycle.org, you can join the Cincinnati East group which includes Montgomery, Blue Ash, and communities east of us extending into many rural areas. There is no cost involved. A member of our Environmental Advisory Commission has been using this system for years, and reports great success in putting items such as those above into other people's hands.
The Freecycle Network is incorporated as a nonprofit organization and is tax-exempt under the IRS 501(c)3 ruling.
Reduce Unwanted Junk Mail
Compact Fluorescent Light (CFL)
All Home Depot and Lowe's home improvement stores  as well as Batteries Plus stores will accept used CFL's from residents at no charge at their customer service desks.
Electronics Recycling
Check Hamilton County's website for options that are currently available.
Battery Recycling
How, and where, to properly dispose of common batteries can be confusing. Here is what you need to know.
First and foremost: do not place batteries in your recycling bin or cart. Batteries cannot be recycled locally in this way, and they create a fire hazard in recycling trucks and facilities. Take your batteries to one of the following locations to be properly disposed. Be sure to place them in a clear, sealable bag.
Household Hazardous Item Disposal (Including Oil-Based Paint)
Check Hamilton County's website for options that may be currently available.
For more information call Hamilton County Environmental Services at 513-946-7766 or visit https://www.hcdoes.org/27/Recycling-Waste-Reduction.