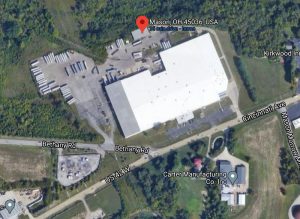 Styrofoam (expanded polystyrene) is a commonly used product because of its insulating and rigid properties. This material is used in such things as insulation, beverage cups, food "clamshells," and packing/packaging materials. The downside of Styrofoam is that it degrades very slowly over hundreds of years when placed in landfills. Until now, there was not a readily available place to recycle this material; however, Ohio has a new Styrofoam/EPS Consumer Drop Off program, and it is just minutes from Montgomery!
Eco Development in Mason, Ohio, is now offering an opportunity to recycle Styrofoam/EPS products and keep them out of our landfills and oceans.  The drop-off center is located at 4219 U.S. State Route 42 in Mason.  Access points to the drop off center are located both on Bethany Road as well as Route 42.  The drop-off building is located in the rear of the recycling plant; look for a building for drop-off items and a green sign mounted on a chain-link fence with guidelines. See map.
Please follow these rules regarding acceptable Styrofoam/EPS:
1) Styrofoam must be clean.
2) No stickers or tape.
3) Please no food containers – these are not accepted in this program.
4) It would be helpful if items are placed in clear plastic bags when disposing.
If you have questions regarding your items, please call the Drop-Off Hotline at 1-866-362-6326. Also, for more information about Eco Development, check out their website at www.ecoenergydevelopment.com.