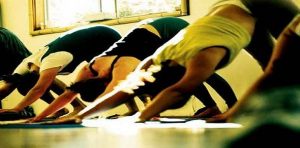 These classes will explore physical posture and energetic alignment through traditional yoga poses, while building strength and flexibility. Modifications will be offered to make sure everyone gets just what he or she needs, so all levels of fitness are welcome. Classes will begin with a brief centering and end with savasana or meditation. Now offering Beginner Level and Mixed Level classes.
Classes are taught by Registered Yoga Teacher Wendy Andersen.
Beginner Level
Wednesdays from 11:00 a.m – 12:00 p.m.
Mixed Level (Two sessions to choose from)
Mondays from 9:30 – 10:30 a.m.
Wednesdays from 9:30 – 10:30 a.m.