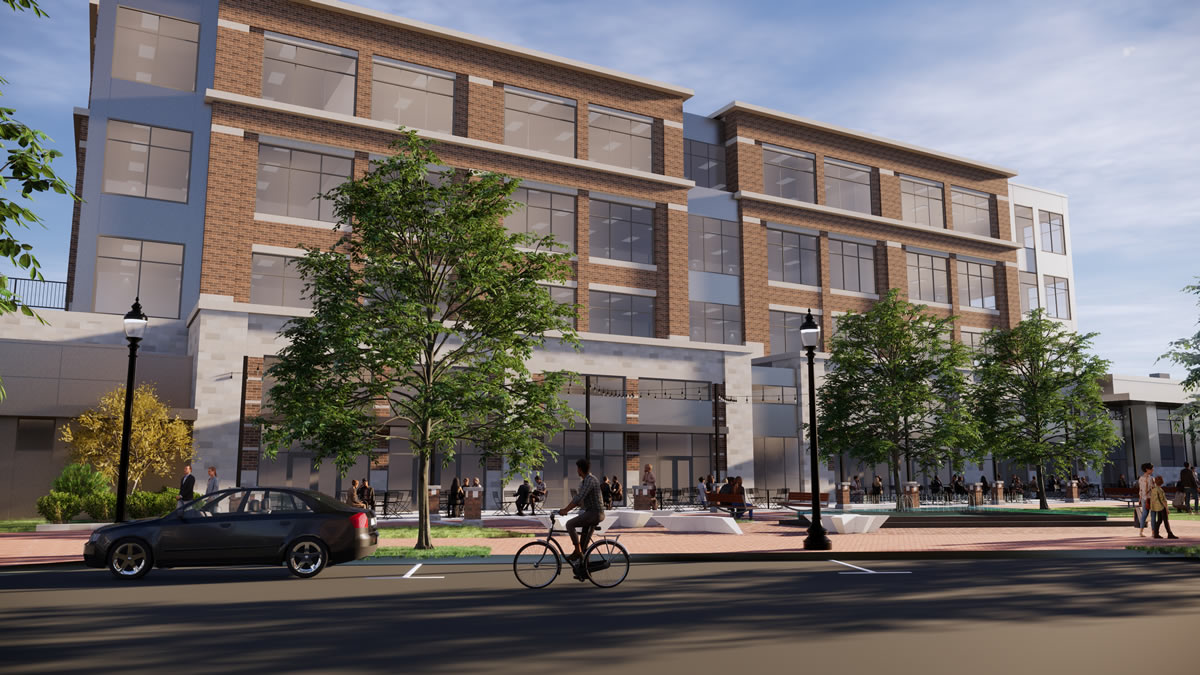 Progress continues at Phase I of the mixed-use Montgomery Quarter at the southern gateway to Historic Montgomery. The development team of Brandicorp, Neyer Properties, and Jeffery R. Anderson Real Estate, Inc. is working to bring this premier $150 million mixed-use development project to life. With construction continuing, residents have many questions about what is happening at Montgomery Quarter, so here are some answers to your most frequently asked questions.
What tenants are open at Montgomery Quarter?
Fifth Third Private Bank, which offers wealth-management services, is open on the third floor of the central office building and Hellman Clothiers is open in the retail space along Roosa Street.
What restaurants are coming to the Quarter and when will they open?
Three restaurants are signed and working on tenant finishes. Bru Burger will open its third Greater Cincinnati location at Montgomery Quarter in February of 2023. Livery, a Latin restaurant featuring empanadas, tacos, skirt steak, yucca fries and many other dishes, is targeted to open in March of 2023. Kozue, which will feature sushi, ramen noodles, and other Japanese cuisine, is targeted to open in March 2023 as well. The development team is working on a lease for another restaurant that will hopefully be announced soon.
What brand is the hotel?
The development team has secured The Tapestry by Hilton brand for the boutique hotel, which will be named The Rambler Hotel. The boutique hotel will feature multiple event spaces, a uniquely designed lobby bar named Sidecar and luxury guest rooms.
When will the hotel start construction?
Building permits for the hotel have been submitted and construction is projected to begin in March of 2023. The hotel is targeted to open in July of 2024.
When will the apartments be complete?
Construction is going strong on the apartments, which are scheduled to be completed in June of 2023. Pre-leasing of the apartments will begin in January when the model is complete.
Is there a park in the project?
Montgomery Quarter includes a new public park in the center of the development, which will be programmed with events such as festivals, concerts, yoga, and other gatherings.
The new mixed-use neighborhood will complement the Heritage District, provide vitality to the area, and serve as a spectacular gateway into the city, enhancing the entire community for current and future residents, businesses, and visitors. For more information on this project, contact Tracy Henao, Assistant City Manager at [email protected] or 513-792-8312.