K-9 Ricky's Coloring Contest Deadline
8:00am - 4:30pm
Montgomery City Hall
10101 Montgomery Rd, Montgomery, Ohio 45242
Add to calendar 2022-01-27 08:00:00 2022-01-27 16:30:00 America/New_York K-9 Ricky's Coloring Contest Deadline

K-9 Ricky wants in on the action! Kids 12 and Under can enter Ricky's Coloring Contest.
Kids can let their creativity run wild with color, glitter, or whatever a child's imagination can think of. Kids can use any materials as long as they are attached to the paper.

Coloring Sheets need to be turned in to City Hall at 10101 Montgomery Rd before 4:30 p.m., Thursday, January 27.

Download Coloring Pages

Questions can be directed to Amy Frederick at [email protected] or 513-792-8358.

10101 Montgomery Rd, Montgomery, Ohio 45242
---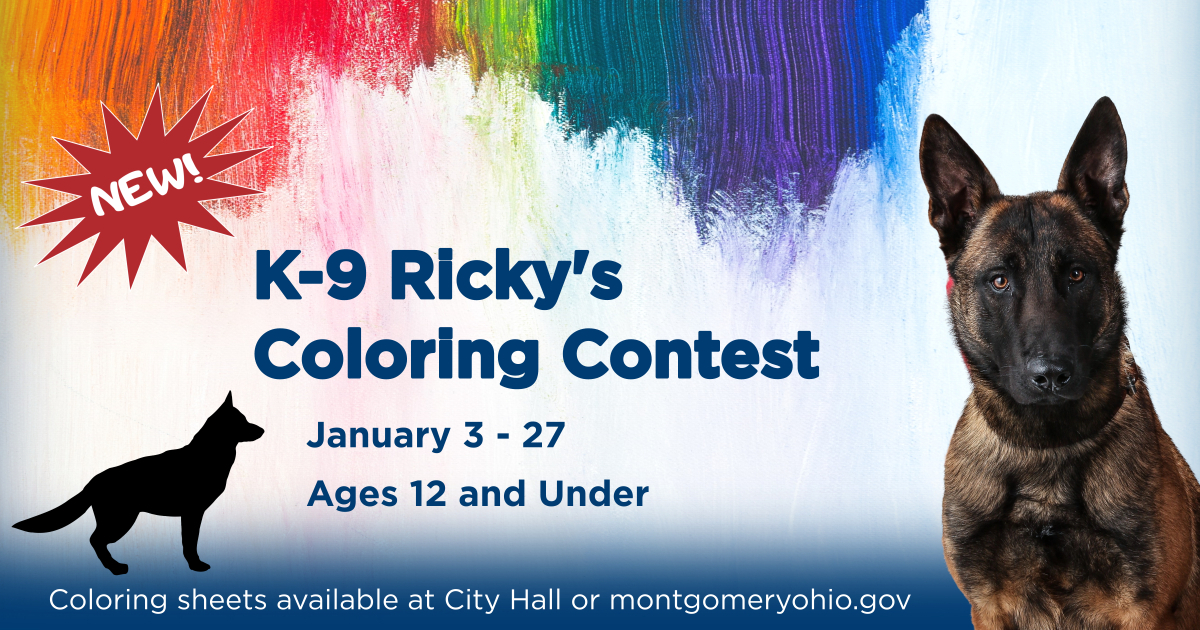 K-9 Ricky wants in on the action! Kids 12 and Under can enter Ricky's Coloring Contest.
Kids can let their creativity run wild with color, glitter, or whatever a child's imagination can think of. Kids can use any materials as long as they are attached to the paper.
Coloring Sheets need to be turned in to City Hall at 10101 Montgomery Rd before 4:30 p.m., Thursday, January 27.
Download Coloring Pages
Questions can be directed to Amy Frederick at [email protected] or 513-792-8358.