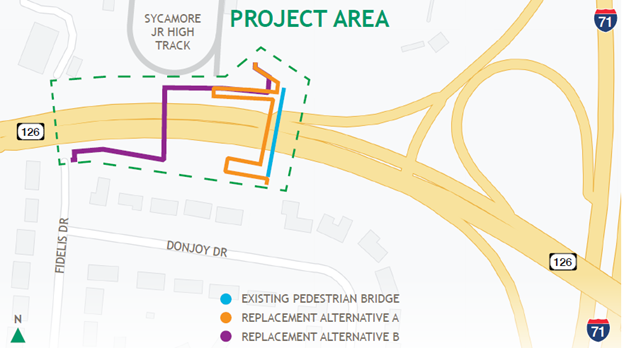 The Ohio Department Of Transportation (ODOT) is hosting a virtual open house to discuss replacement options for the pedestrian bridge that crosses over Ronald Reagan Cross County Highway/SR 126 near the I-71 interchange.
This bridge directly connects Donjoy Drive in the Kenview Hills neighborhood and Sycamore Junior High School.
Public involvement is an important part of ODOT's project development process, and the input received will help guide the decisions for the project. ODOT has created a virtual Public Open House to share information about the project and gather public feedback regarding the alternatives under consideration.
For a link to the open house and to give feedback SR 126 Pedestrian Bridge Replacement Project (PID 114652) – PublicInput