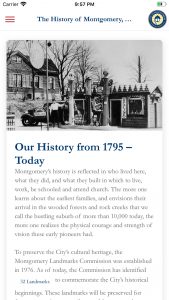 A team of Sycamore High School students recently created a mobile app called 'Our History' that highlights Montgomery's history and historic Landmarks. Sycamore High School Seniors Norah Pack and Blake Rile, and Eli Cohen, currently in his first year at Washington University in St. Louis, volunteered their time and talents over the past year to create the app.
The City of Montgomery has retained many historical buildings, 32 designated as local Landmarks. The 'Our history' app provides audio presentations, text, and pictures of each of these unique properties. Also included are several photos and stories that help share Montgomery's history with the community.
The team started working on the app during the early months of 2020, before the COVID-19 Pandemic. However, the Pandemic did not stop the team from persevering. "We went through the learning process of moving the entire operation to a virtual setting and working on the same project from different locations due to the pandemic," said Norah Pack, Sycamore High School student.
"The City of Montgomery enjoys a strong partnership with Sycamore Community Schools. This creative app created by Norah, Blake, and Eli is another example of how a valued relationship can produce win-win results for the students and the City," said City Manager Brian Riblet.
Each student received a $750 scholarship to recognize their efforts and help them further their educational goals.
The 'Our History' app is available in the Apple App Store.
For more information, visit montgomeryohio.org/montgomery-history-app.