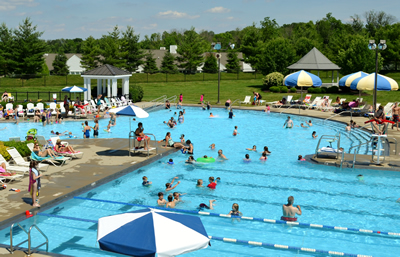 Pool season is almost here! Opening Day at the Montgomery Community Pool is Saturday, May 28!
Make plans to join us this weekend!
Pool hours:  Saturday, May 28: 10 a.m. to 8:30 p.m.  Sunday, May 29: 10 a.m. to 8:30 p.m.  Memorial Day, (Holiday Hours) Monday, May 30: 10 a.m. to 8:30 p.m. Please note: School Hours are Tuesday, May 31 through Friday, June 3 and the pool is open 3:30 p.m. to 8:00 p.m. on these days.
Pool Calendar: The pool hours calendar which includes hours for each day until the end of July as well as the activities can be found at:  https://storage.googleapis.com/proudcity/montgomeryoh/uploads/2022/05/May-July-2022-Pool-Calendar.pdf
August and September hours will be posted in the future.
Fun Activities! You are invited! Please join us for Fun Tuesdays, the Pool Luau Party, movie, and other Steel Drum band days! Details can be found at: https://www.montgomeryohio.gov/pool-activities-calendar/
Membership ID cards: Pool members will receive preprinted membership cards that we will link to your membership picture and membership information. Pool staff will hand your ID to you on your first visit or two at the pool.
Good luck Makos with your swim team season! Their first practice is on Tuesday, May 31! Evening practices are held on 4 days, Tuesday, May 31 through Friday, June 3 and the lap lanes will be occupied by the swim team. Extra special thanks go to the Swim Team Parent Board for their hard work to prepare for the season!
Pool Projects: Many projects were completed during the off season which includes: painting of the interior ride path of the slide, painting of the entire bathhouse, repair and painting of the shallow end of the pool, and a new shade structure is over the playground.
Concession: Hours are 12 to 6 p.m. daily (hours adjust during school hour days)